Regular price
$399.90 USD
Regular price
$120.00 USD
Sale price
$399.90 USD
Unit price
per
Sale
Sold out
Function
:Valuable Chinese herbal supplements; Remove blood stasis and stagnancy (Huayu Sanjie), clear heat and detoxify (Qingre Jiedu), remove phlegm and turbidity (Huatan Quzhuo), and strengthen the body (Fuzheng Guben).
Start from five aspects
: Dissolve、Detox、Inhibit、Vitality、Resist.
Benefit
: It is often used to help dissolve various tumors and lumps in dogs and cats, shrink and inhibit the growth of tumors. It also inhibits the spread of cancer cells. Softening tumor, reducing swelling and relieving pain, promoting blood circulation and removing blood stasis. Promote surgical healing, generate blood and replenish blood. Effectively reduce the probability of recurrence after tumor surgery and improve the quality of life of patients. Help pets with benign tumors recover quickly.
apply to
: dogs and cats Lammary tumor, Lymphoma, Mast Cell Tumor, Lymphoma, lipoma, Histiocytoma, Hemangiosarcoma, Papillomas, etc.
Composition
: Hedyotis diffusa、BAI-ZHU(Atractylodes)、Scutellaria barbata、Red Peony Root、Szechuan lovage Campanulaceae, Rehmannia glutinosa, Curcuma phaeocaulis, Poria, Chinese liquorice, Eclipta, Astragalus, Chinese honeysuckle, Dandelion, Herb paris, Asian gingseng, Sparganium, Tienchi Ginseng, Appendicular Cremasta Pseudobulb, Chinese Sage Herb, Heal all, Scrophularia, Fritillaria thunbergii, Gardeniae fructus, Turkey Tail Mushroom (Yunzhi)、Ganoderma lucidum、etc.
General guidelines for usage:
1-2 LBS: ¼ CAPSULE
3-5LBS: ½ CAPSULE
6-10LBS:1CAPSULE
11-15LBS:1AND ½ CAPSULES
16-20LBS:2CAPSULES
21-25 LBS:2AND ½ CAPSULES
26-30LBS:3CAPSULES
31-35 LBS:3AND ½ CAPSULES
36-40LBS:4CAPSULES
41-45 LBS:4AND ½ CAPSULES
46-50 LBS:5CAPSULES
51-55 LBS:5AND ½ CAPSULES
56-60 LBS:6CAPSULES
Additional Notes
:You can also use a calculator and select the desired mode for each case, i.e.
"strong"
and
"mild"
modes.
Dogs and cats that are suffering from tumors and cancer threats; "strong" should be selected.
For example, for post-surgical and elderly dogs and cats, in order to reduce the recurrence rate and promote recovery, as well as preventive care for elderly dogs and cats; the "mild" mode can be selected.
"Strong" mode, 1 dose per day in the morning and 1 dose in the evening.
"Mild" mode, take 1 dose per day.
In addition, you can use 2 modes to alternate the product.
For example, "Strong" mode for 1-2 months, then switch to "Mild" mode for a period of time (this period can be 5-15 days).
For example, the "strong" mode is used for 1-2 months and can be rested (disabled) for 5-10 days; then resume use of the "strong" mode.
Regardless of the mode, dogs and cats can have a certain rest period (disable); then resume use again.
Can be taken with a small amount of warm water or food to prevent or reduce discomfort; drink plenty of water after supplementation to promote absorption. Can be used with meals or products such as canned food that your pet likes.
Share
View full details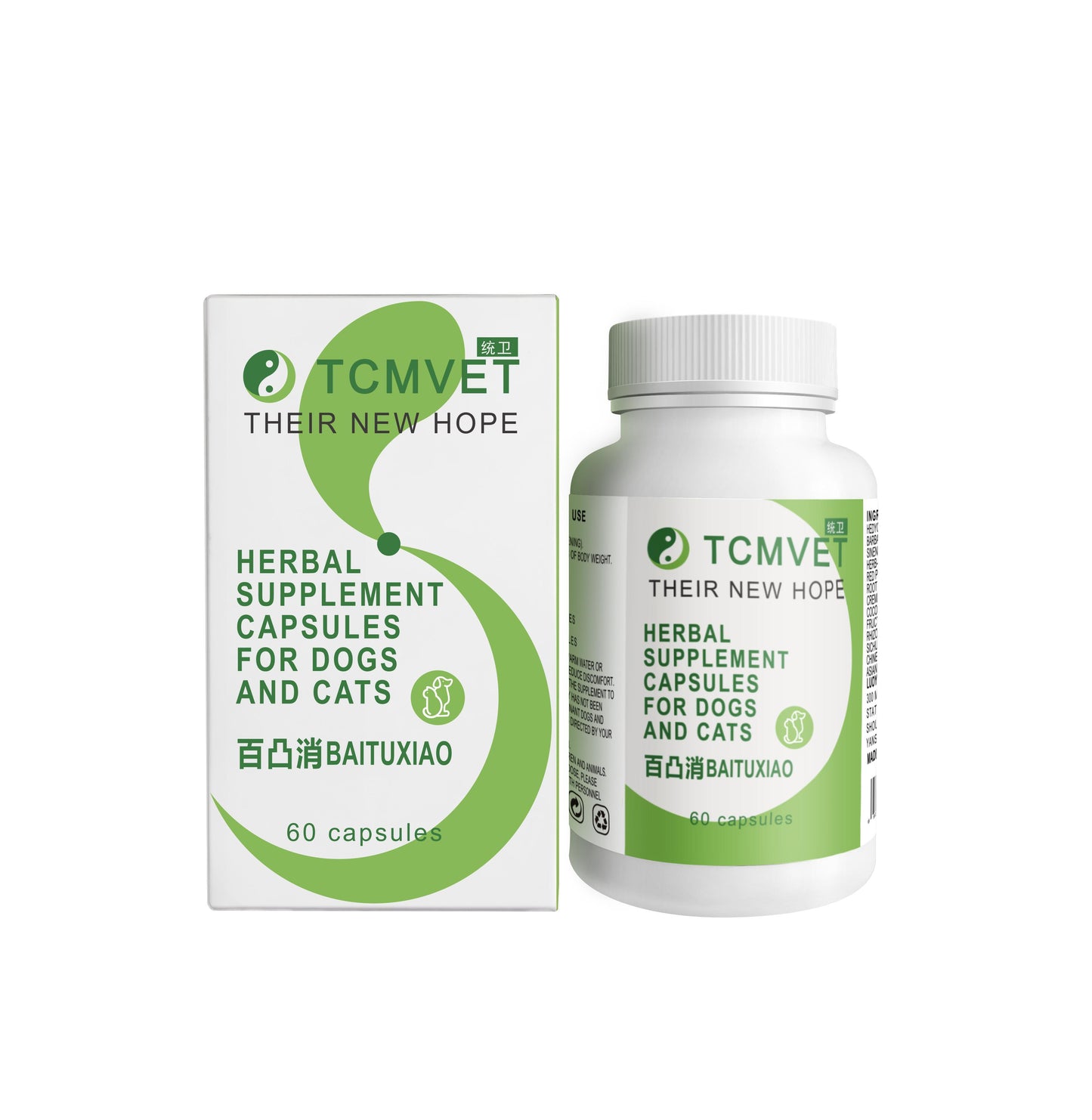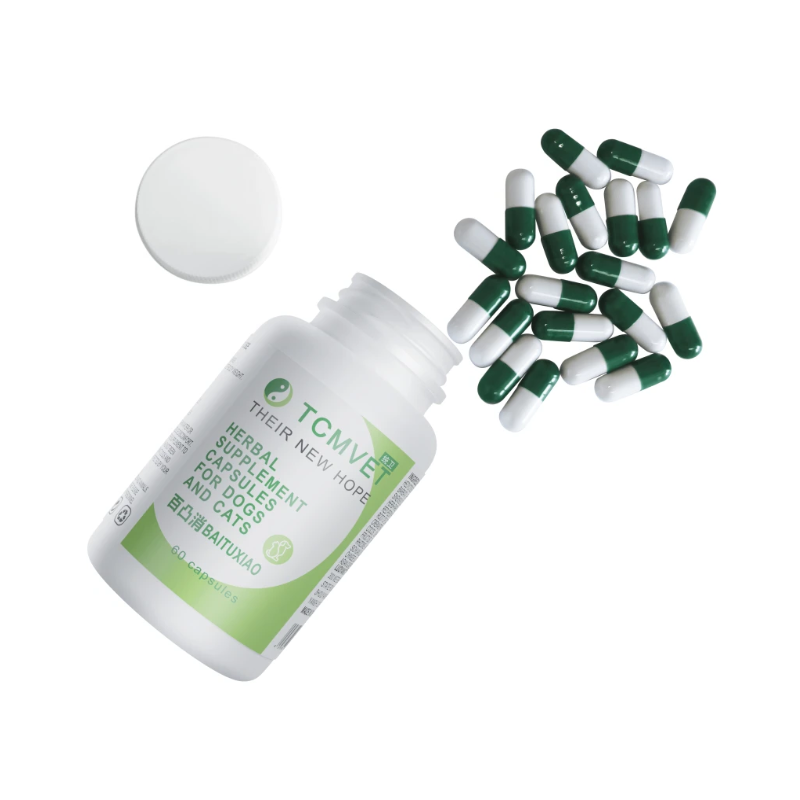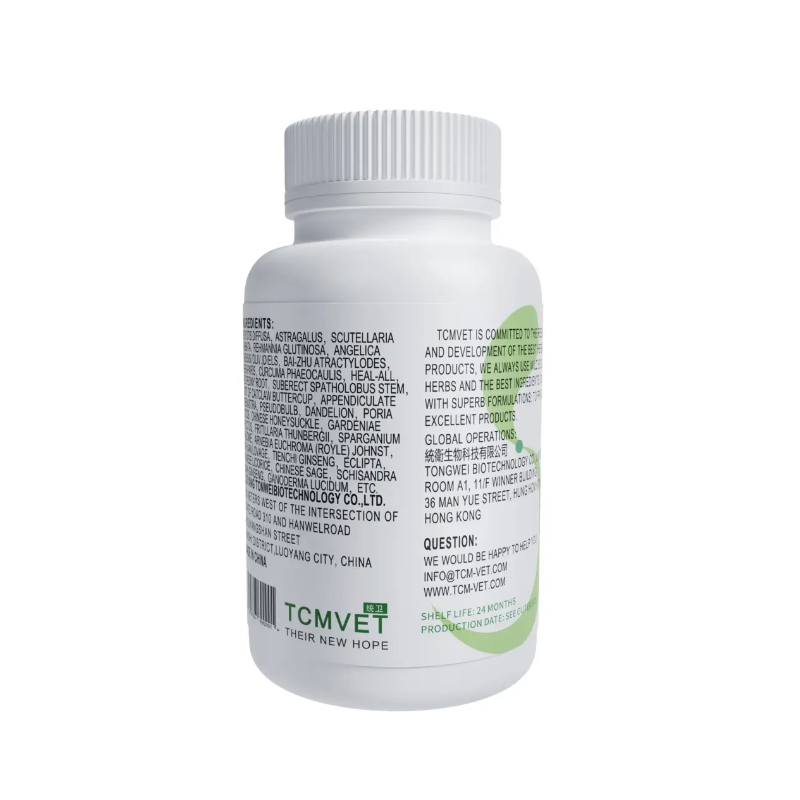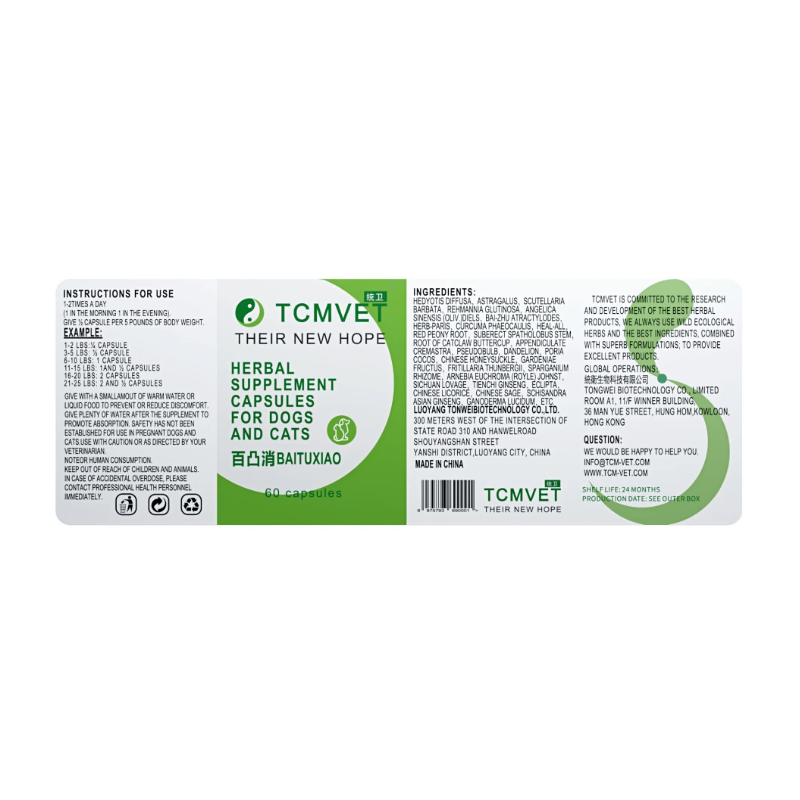 Best treatment for spleen tumors
It is not a cancerous lump, and the effect is obvious after eating for a while
Piroxicam, Prednisolone, and Baituxiao are used together without other problems
Mast cell tumors always grow in different places and hopefully stop the growth
The veterinarian prescribed Benadryl and recommended baituxiao, which should be used for a while